Perhaps I've Said Too Much (A great big book of messing with people) is the much anticipated follow-up to the heralded, award-winning Things Go Wrong For Me. In his second book, Rodney continues to harass the reader with his dull wit and unique story-telling style. Complete with original hand-drawn artwork and graphics, one-two punch Brain Nuggets, and the ever-popular Draw Something Files, Perhaps will not disappoint.*
* Assumes you are an immature child who enjoys potty humor and making fart noises with your armpits.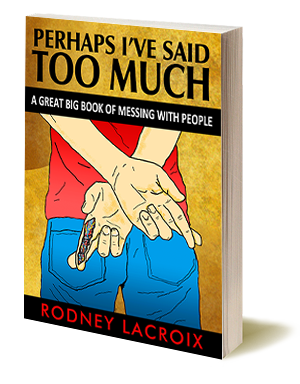 Paperback: 264 pages
Publishing Date: Dec 3, 2013
Language: English
Inside: Color
ISBN-10: 0982772041
ISBN-13: 978-0-9827720-4-1
Price: $15.99, $7.99 $4.99 ebook
or
Get your autographed copy from us.
$15.99 plus $2 shipping.
US Addresses only – International will cost extra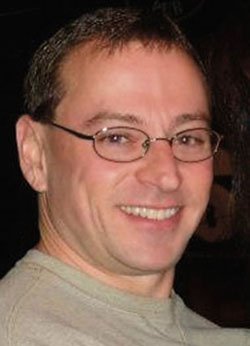 ---
See What Reviewers Have To Say About Perhaps I've Said Too Much

---
"I laughed so hard my toolie leaked and I had to change my pants; I now understand I should've been armed with wings. Amazingly funny stories from my favorite man of steel."
JennieK
Internet Radio Host, The Brawdcast
---
"It's a true gift when a writer puts something on paper and makes you laugh out loud. Rodney has that gift and shares it repeatedly in Perhaps I've Said Too Much!"
Gene Lavanchy
FOX Boston
---
"I laughed so hard I came untucked."Bailey JayAVN Winner/ Radio Personality
"Rodney Lacroix wins again! His second book, Perhaps I've Said Too Much, blows my mind like an exploding Tiffany lamp. It made me excited for my next issue of Chicken Pluckers Monthly."
Sierra
Co-host of "The Curvacious Bounty of Sin City" radio show
---
"It's actually possible for someone to make you laugh too hard to the point of pain. That's what Rodney has done again!"
Summer Felix
Author of "Lost & Profound" and "The Right One" series
---
"There's a lot of boobs in this book. I read it for the pictures. I'm sure it's very good though."
Neal Mayhem
Broadcaster, Voice Actor, and Writer for Radio and TV
---
"Hysterical stories that had me crying tears of laughter and pissing my pants."
Jennifer Garcia
Author of "My Mr. Manny"
---
"Not quite sure what state program let this lunatic out long enough to write a book, but thank God for government failure. This is brilliant, funny stuff."
James C. Mulligan
Celebrity Artist and Social Media Whore